What is Reading in Action?
Reading in Action is a self-paced digital course designed for children who are just beginning their journey of learning to read OR for kids who've been at it for a while and need it broken down in a different way.
This program combines the foundations of reading with movement. . . for an engaging and exciting introduction to reading! 
Lessons are taught by an experienced Reading Specialist who uses evidence-based literacy instruction in an innovative way.
This course is for your child if they:
Are at the beginning stages of learning to read

Enjoy watching and interacting with videos

Like to move around/act things out
This isn't just any educational video series - Your child will get their own kit of hands-on (and feet-on!) materials to interact with during each 15-20 minute video lesson!  ​
Printable PDF activities are included to reinforce lesson concepts each week.
By the end of the 10 lessons, children will have been introduced to:
all 26 lowercase letters and their sounds
a word and movement to associate with each letter and sound
segmenting phonemes within a word
blending phonemes within a word
using phonics to decode and encode CVC words
letter formation and handwriting
basic sentence structure
beginning fluency skills
Many types of kids could benefit from these videos, including those who:
Can identify some or all letters

Know some letter sounds

Do not yet know any letter sounds but seem interested in learning

Cannot yet read short words like: map, jet, pot, win

Seem interested in learning how we use print to represent spoken language

Have not yet received any formal reading instruction but are interested in learning

Have received some reading instruction but have demonstrated difficulty
The course is self-paced but lessons are added per the dates listed below.
2 Different Plans Available!
Standard Access: $57
Includes:
10 15-20 minute interactive video lessons
Printable PDFs (4-5 pages per lesson) to reinforce concepts
Hands-on/Feet-On Learning Kit
Magnetic tray with 26 lowercase letter magnets and 3 tiles for representing phonemes
Magic wand for skywriting
4 foam squares "jumping out" sounds in words
FREE shipping!
Access to Facebook Group for parent support
*BONUS: Access to monthly Zoom Show and Tells with other children completing the course (dates TBD)
Premium Access: $97
Includes everything included in the Standard Access plan PLUS:
2 15-minute 1:1 Zoom sessions with Erin and your child
Unlimited personalized pre-recorded video messages to your child with positive feedback for anything they submit (Completed printable pages, illustrations, photos or videos of completing lessons, etc.)
Copy of Sam the Dog Decodable Reader (written by Erin) to apply skills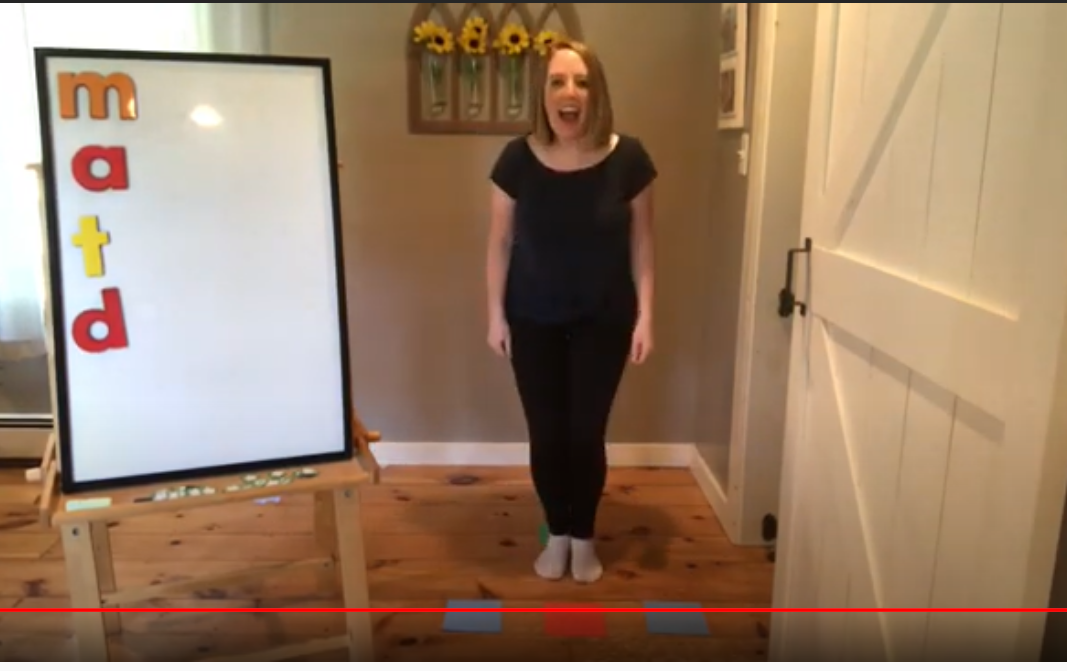 10 Video Lessons
Evidence-based instruction from the comfort of home. Bring the Reading Specialist to you! Each video is 15-20 minutes in length.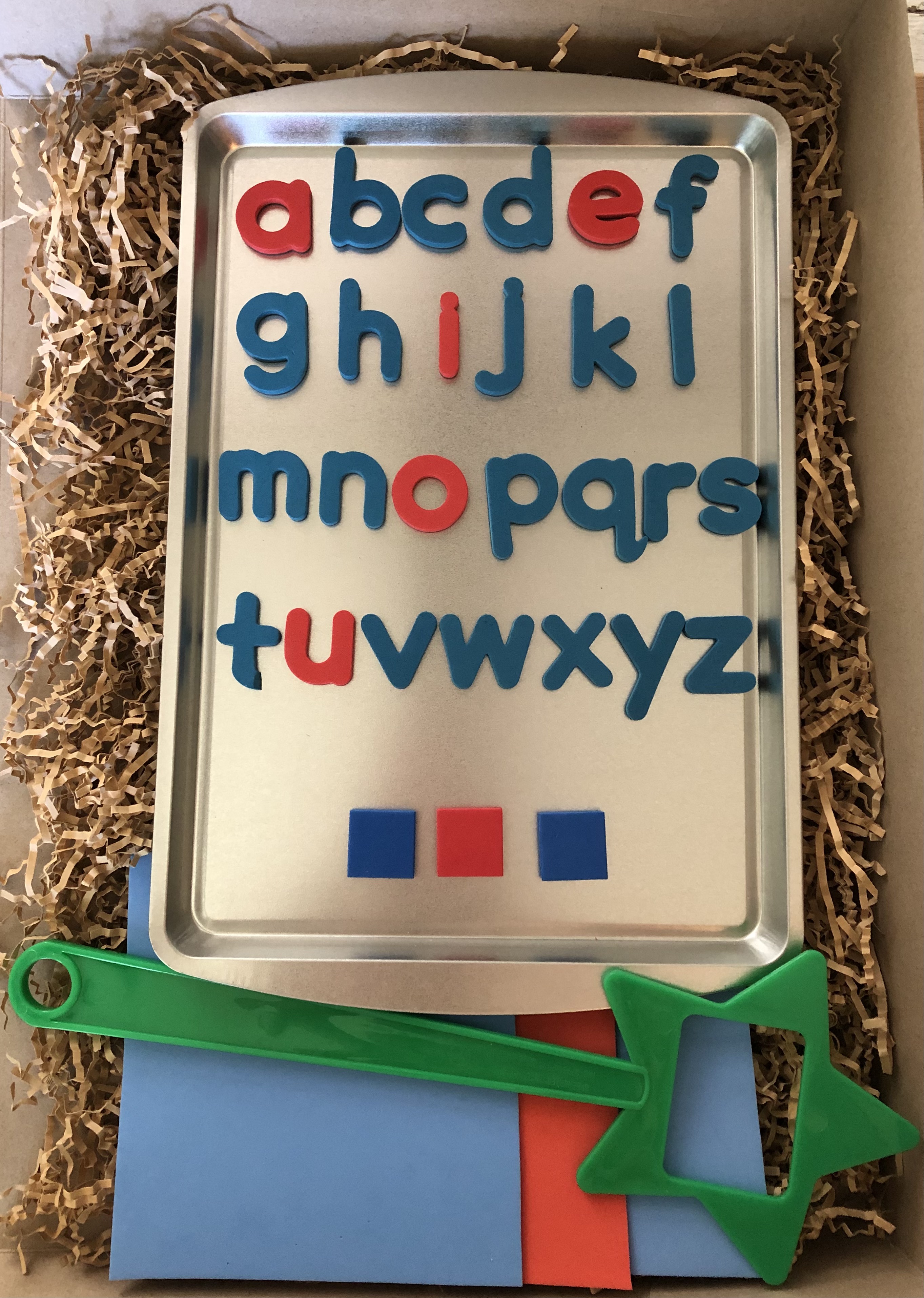 Hands-On/Feet-On Learning Kit
Your child won't be sitting back and watching videos passively! They will be up and moving, interacting with the teacher and enjoying a multisensory learning experience.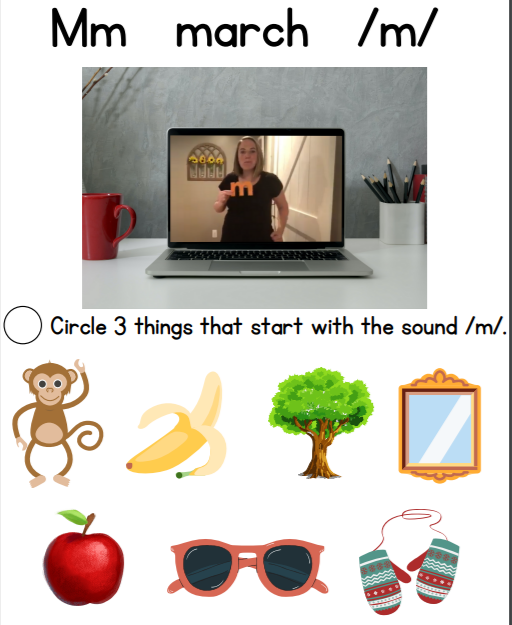 Printable Activities with Each Lesson
Your child will apply the skills from each lesson using the printable activities that accompany each video. There are 4-5 pages per lesson!
The Story of Reading in Action
Erin began taking dance lessons at the age of 3. She continued lessons throughout her years of school and it became her form of exercise, expression, and fun. Meanwhile, at the age of 7, Erin decided she was going to be a teacher when she grew up.
A lover of phonics and all things reading and spelling, she pursued her passion and double majored in Elementary Education and Dance Education, followed by a Masters in Reading.
After teaching in a public school system for 10 years and having her third baby during Covid, Erin wanted to explore different ways of sharing her passions with her students.
She wanted to combine her love of reading and her love of creative movement in a way that would benefit children. After being cooped up for months, she knew that kids were craving opportunities for socialization and interaction. She began teaching a live version of Reading in Action through her town's recreation department.
The live class was a hit, and Erin wanted to find a way to share the class with more children.
Reading in Action video lessons allow active children to learn in a way that works for them, from the comfort of home, while still receiving literacy instruction grounded in evidence.
Available in days

days after you enroll

Reading in Action Level 1
Check your inbox to confirm your subscription